Choosing The Best Firewood
Choosing the best firewood product for you all depends on your needs and objectives. Choosing a type of firewood is relatively simple, once you understand the various types of products and what their benefits and potential weaknesses may be.
Generally speaking, most firewood purchased and consumed within the United States consist of hardwoods, such as oaks, hickory, poplar, maple, etc.
When people refer to "softwoods" they are typically referring to various species of pine. In regards to cooking wood or inside wood-burning stoves or fireplaces, pine is usually not the best choice of wood. Due to their high resin content pine firewood will produce a "less than desirable" bitter taste in foods, often create higher than normal amounts of smoke and ultimately can cause an unsafe build-up of creosote (which if left unchecked could instigate a chimney fire) inside of a fireplace or chimney.
Now, back to the hardwoods. As strange as it may sound there are actually species of hardwood that are considered "soft hardwoods" and others that are considered "hard hardwoods". Soft hardwoods consist of species of poplar, gum, elm, maple, beech, birch, etc. Hard hardwoods in most of the eastern United States consists of species of oaks and hickories. Because hard hardwoods are generally more dense they often burn a little hotter and longer, making for a slightly more efficient burning product. If soft hardwoods are properly seasoned or kiln-dried they will provide adequate heat, a consistent burn and an overall quality burning experience.
BTU stands for British Thermal Unit, and is a unit of heat that is defined as the amount of heat required to raise the temperature of one pound of water by one degree Fahrenheit. What that means for firewood products is this: the higher the BTU, the hotter your firewood embers will get. True seasoned and kiln-dried firewood will give off more BTUs than regular green firewood due to their lower moisture content, thereby providing for a product that is easier to light and will burn more consistent. As it relates to cooking or smoking, good quality "hard" hardwoods such as oaks and hickory, will provide the highest output of BTU's, which ultimately give you the longest and hottest burning embers.
Kiln dried firewood is exactly as the name implies. It is split firewood that has been run through a kiln cycle, which is typically a 24-48 hour process of heating the wood to 250 degrees inside of a specialized enclosed and insulated containment unit. As moisture is "pulled" from the firewood during the heating process it is then forced out of the kiln, in the form of steam, through a ventilation system. 
Probes placed inside random pieces of firewood ensure that all of the wood within the particular kiln cycle has reached the optimal internal temperatures to not only qualify as USDA certified pest and mold-spore free, but that the wood has reached a much lower moisture content…making it ready to burn hot and clean. 
Our kiln-dried hardwood firewood generally has a 8-12% moisture content, making it easy to light, as well as burning hot and clean. We continually strive to provide you only the best quality firewood with the most friendly and professional customer service available. Our kiln-dried hardwood firewood selection is the cleanest burning, bug and mold-spore free, and burns the hottest and most consistent.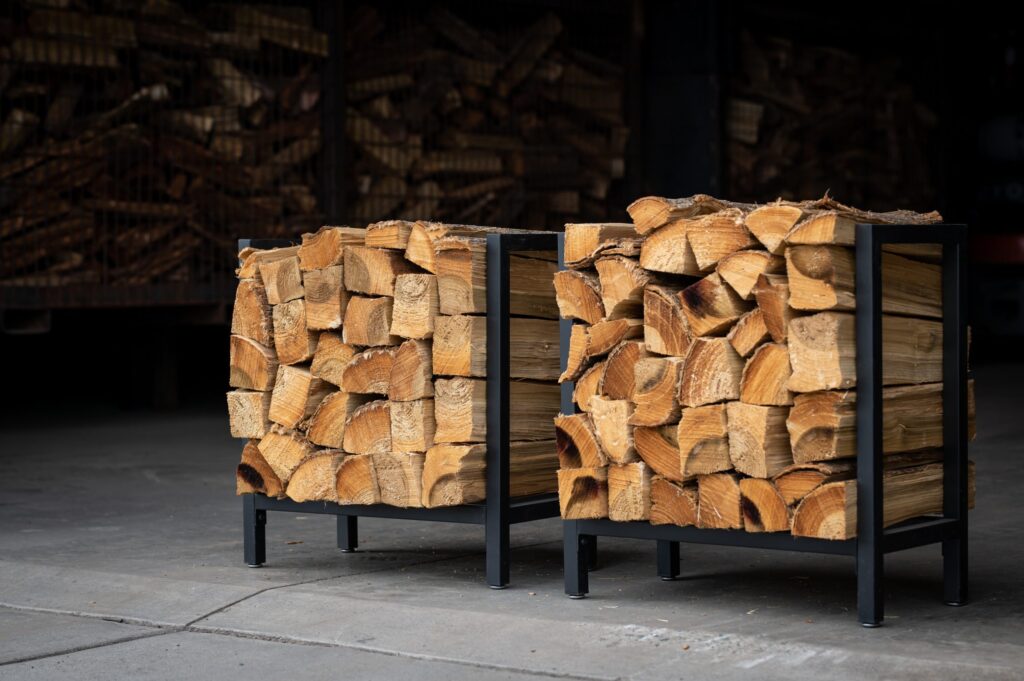 Note: Our kiln-dried firewood far exceeds current USDA certification standards and all State regulations, which allows it to be moved across any state lines and utilized within any State or National Park and/or Campgrounds. 
True "seasoned" firewood generally has a moisture content of around 18-25% and typically takes between 6-10 months to achieve under normal outdoor conditions.

Fun Fact: Freshly split (green) hardwood firewood often has around 50-60% moisture content, which is why it is difficult to light and even more challenging to make it burn hot and consistent.

Actual seasoned firewood will usually have a consistent brown or "weathered" appearance, compared to freshly split (green) wood, which generally has a more creme or beige coloration. Our splitting process involves tumbling the firewood on multiple occasions to help clean the wood of dirt, debris and loose bark , which ensures you receive the cleanest seasoned firewood available. East Coast Firewood also regularly analyzes our products with certified moisture readers to aid in the quality control aspect of the business, allowing us to provide you only the best quality products on a consistent year-round basis. We split firewood all year long and continually rotate our inventory, so that we will never run out of product that you need or desire for your heating, cooking and pleasurable needs.